Posted by ChristmasFestival.com on December 6th, 2013
Category Entertainment, Festival Parades, General News, Schedule Updates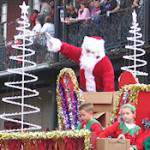 The Natchitoches Christmas Festival is this weekend, Saturday, Dec. 7, 2013, and will continue as scheduled. The City of Natchitoches invites everyone to come out and enjoy the festivities in Historic Downtown Natchitoches. Entertainment by Frank Foster and Lainey Wilson, and fireworks over beautiful Cane River Lake.
Read more »